Supporting ASEAN Student Mobility amid COVID-19 through Initiating Collaborations in Virtual Exchange/Collaborative Online International Learning Programmes
English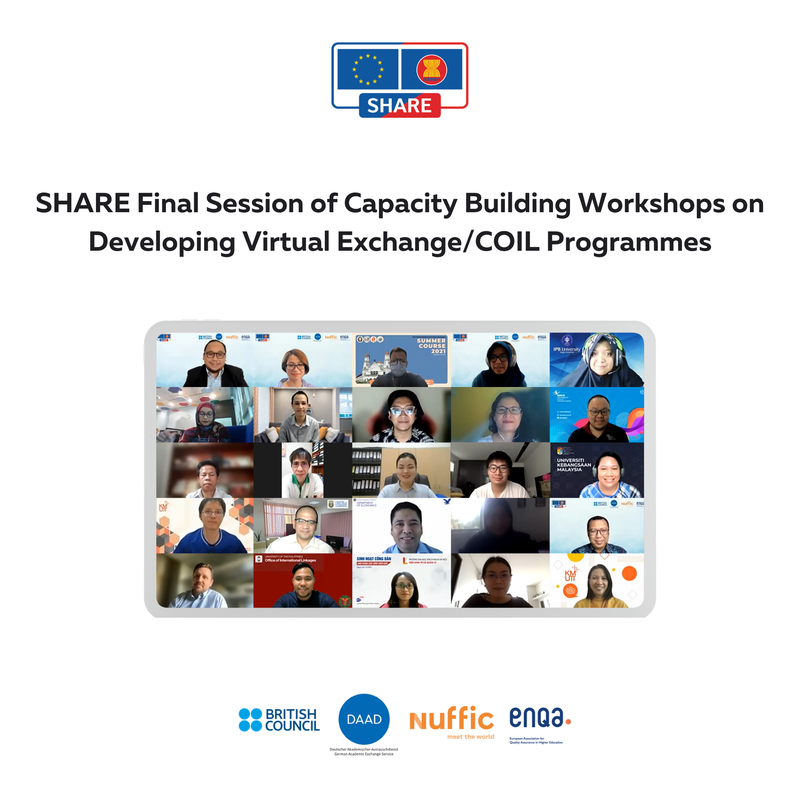 Supporting a Digital Transformation of Student Mobility
The impact of COVID-19 on student mobility has challenged many higher education institutions (HEIs) and students around the world to find new methods of learning. In response, the SHARE Programme is exploring new opportunities with the higher education community in the ASEAN region by embracing digital transformation. This effort includes leveraging online learning methodologies and blended learning modalities, such as Virtual Exchange (VE) and Collaborative Online International Learning (COIL).
VE is an activity that "uses technology to connect people from different countries or cultures for mutually beneficial educational exchanges and cross-cultural dialogue". While COIL "focuses on using the internet to allow students in different countries to work together on common projects", thus encouraging students to take a more proactive and participative role.[1] These forms of virtual exchange are an important tool for HEIs and are not only the primary form of student exchange during the pandemic, but are also a complementary aspect to physical student mobility once it has ended. On that basis, the SHARE Programme initiated a series of capacity building workshops to achieve a common understanding of virtual exchange and to design an intra-ASEAN virtual exchange programme that was co-created with SHARE partner universities.
The SHARE Programme held a series of Capacity Building Workshops on Developing Virtual Exchange/COIL Programmes between 16th September – 6th October 2021. Conducted through weekly live (synchronous) check-in sessions as well as asynchronous sessions where participants could learn at their own pace through video lectures and assignments posted on the ImmerseU learning platform.  The workshops aimed to provide participants with the knowledge and skills needed to develop VE/COIL programmes in their institutions, thus encouraging the growth of VE/COIL partnerships among ASEAN HEIs.
Dr. Keiko Ikeda, Vice-Director of Institute for Innovative Global Education (IIGE) at Kansai University, and Dr. Abdul Latiff Ahmad, Director of the International Relations Centre at Universiti Kebangsaan Malaysia (UKM) Global were the facilitators of these workshops. They are also the lead researchers in the SHARE study on "Mapping and Identification of Virtual Exchange Schemes in ASEAN".
SHARE Capacity Building Workshops on Developing VE/COIL Programmes
This workshop series adopted a unique flipped classroom teaching method, where participants learned materials related to VE through video lectures, discussion boards, and assignments, and participated in weekly online check-in sessions. This method allowed the participants to have the experience of being in an online classroom where they must be prepared to take an active involvement in the upcoming check-in session.
During the first week of the workshops, the facilitators provided video lectures to introduce the basic concepts of Virtual Exchange/COIL. The videos were focused on (1) the definition of Virtual Exchange/COIL and its benefits for students; (2) intradisciplinary, interdisciplinary, and multidisciplinary VE / COIL programmes; and (3) the concept of synchronous, asynchronous, or blended modes of learning activities that lecturers could assign to their students. These concepts were further discussed in the first weekly check-in session by dividing the participants into smaller breakout groups. Dr. Laurene Chua-Garcia from De La Salle University in the Philippines also participated as a guest speaker in the session to share the experiences of IALU (International Association of Lasallian Universities) in developing and implementing their COIL Programme.
During the second week, the participants were given another set of video lectures. First, they learned about COIL module development where lecturers can start developing their syllabi and generate the COIL tasks that they would give to their students once a collaboration between two or a group of instructors has taken place. Second, the participants learned about intercultural learning and how it can be embedded within a Virtual Exchange. Third, they learned about applying problem-based learning, which is an instructional approach where students are given a problem and they are tasked to work collaboratively as a group to find solutions to these problems, through VE/COIL.In addition, the participants were also assigned to generate their own potential VE/COIL course and choose partners for a VE/COIL collaboration. They were then able to discuss in more detail how their courses would run, the types of collaborative tasks that they would like to develop with overseas students, as well as what cultural impacts (similarities and differences) amongst students they should be aware of.
In the final week, the workshop used ImmerseU as the learning platform to share the video materials on (1) the evaluation and assessment aspect in VE/COIL programme, (2) the available tools for VE/COIL, and (3) strategies to develop an effective and interactive environment for real-time virtual space collaboration or synchronous learning for VE/COIL. During the final check-in session of the week, participants completed a course development exercise and discussed further on the COIL course modules that they had been developing with their fellow partners.
Moving Forward with Virtual Exchange / COIL
At the end of the workshop series, the participants remarked that they had had a "priceless experience… to connect virtually and achieve the goals, i.e. to learn and [find] partner universities to apply VE/COIL". They also enjoyed the "synchronous and asynchronous session[s]" of the workshops, despite the challenge of working collaboratively in a brief amount of time.
Although the series of workshops on developing VE/COIL programmes has ended, the SHARE Programme will continue its support to partner universities and HEIs in ASEAN to develop Virtual Exchange/COIL collaborations among their institutions. The SHARE Programme believes that higher education institutions in the ASEAN region will be well-equipped to continue developing VE/COIL collaborations in the near future in response to physical mobility challenges through its plans in developing a dedicated platform for Intra-ASEAN Virtual Exchange, as well as providing financial incentives and support for VE/COIL development by launching the upcoming batch of the SHARE Scholarship programme.