Study on Digital Credential Recognition - Mapping and Identification of Digital Credit Transfer System Needs in ASEAN
English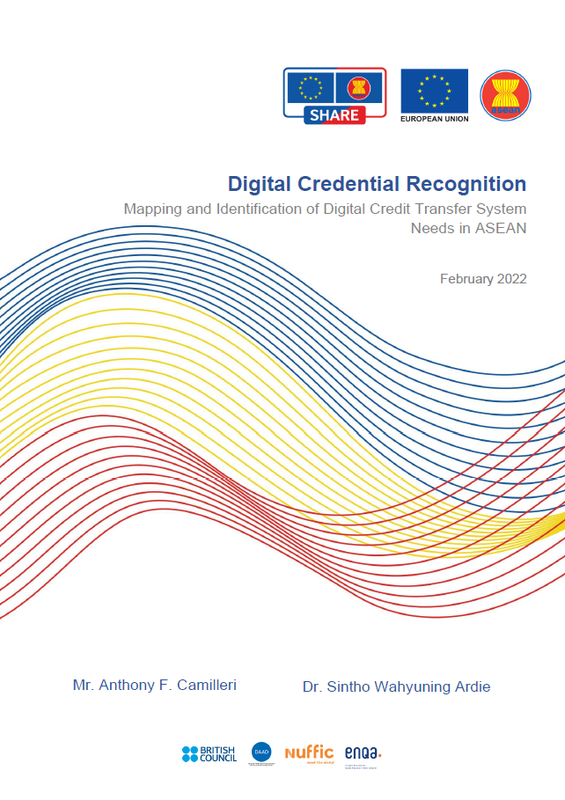 Digital Credential Recognition: Mapping and Identification of Digital Credit Transfer System Needs in ASEAN
Mr. Anthony F. Camilleri & Dr. Sintho Wahyuning Ardie
This study commissioned by the SHARE Programme, provides an overview of digital credentials recognition within the ASEAN region, Europe and globally. It aims to share recommendations on the deployment of systems for digital documents and enhancing their recognition throughout the region.
The focus of the study is on credentials for higher education student mobility. This includes credentials for credit transfer between institutions within the context of a single programme, for mobility between institutions after completion of a programme, as well as for mobility between academic institutions and the labour market after graduation.
The most common initiative for this is Erasmus without Paper (currently being rebranded into the European Student Card Initiative), which allows for this interchange between over 3,000 universities in Europe. Digital Credentialing software allows for the award of credentials to students. Students store these credentials in their own wallets and may share them for the purposes of recognition with their own institution, other educational organisations, or employers.
The study finds that digital credential recognition in the region can be significantly boosted by leveraging on existing global standards, software, and networks. In the short-term, the initiative being led by the SHARE Programme could bring significant benefits around student mobility. In time, this could be expanded to more use cases and be applied to more institutions beyond the SHARE Partner University Network.
Through such an approach, institutions in the ASEAN region have an opportunity to make a generational change in the management of credential recognition in a comparatively short period of time, bringing efficiency gains to institutions and employers, and improving credential portability and recognition for students.
You can download the study here